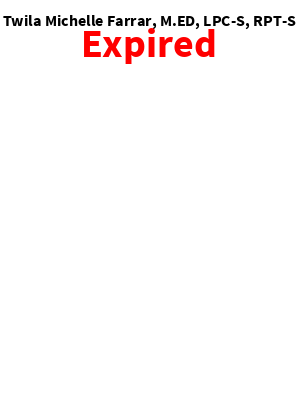 Twila Michelle Farrar, M.ED, LPC, RPT
CEO, LPC, RPT, CAS
at www.universityparkcounseling.com
Flower Mound, TX USA
CAS152504
04/16/2015
04/17/2021
A Certified Autism Specialist (CAS) has been verified by the International Board of Credentialing and Continuing Education Standards (IBCCES) to have voluntarily met rigorous professional standards, demonstrating experience and education in autism. A CAS has a minimum of a Master's degree and 2 years of experience or a Bachelor's degree and 10 years of experience. The CAS obtains 14 continuing education hours in Autism every two years in order to stay up to date in the field. A CAS has also passed the IBCCES Autism Competency exam.
Learn more about IBCCES certifications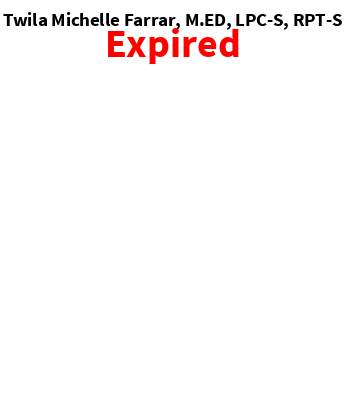 Twila Michelle Farrar, M.ED, LPC, RPT
CEO, LPC, RPT, CAS
at www.universityparkcounseling.com
Flower Mound, TX USA
BCTS20966597
05/06/2020
05/01/2022
The Board Certified Telepractice Specialist (BCTS) program is designed to help professionals successfully deliver telepractice services. Individuals with a BCTS have completed 8 CEs of teletherapy training.
Learn more about IBCCES certifications